Without a Word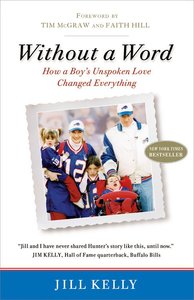 WITHOUT A WORD is a riveting memoir that blends remarkable achievement with passion, sacrifice, love, pain, and human interest. It takes the reader into the lives of a celebrity couple, Pro Football Hall of Famer Jim Kelly, and his wife, Jill, to reveal the Kelly family's private struggle and how seven years with their severely disabled, terminally ill son, Hunter, unfolded in a redemptive and transforming manner. The light of Hunter's love through his brief and silent life shone into the shadowed corners of Jill and Jim's lives resulting in Jill believing that Jesus Christ was authentic, her learning to forgive Jim of past indiscretions, and finally resulting in Jim's seeking and finding God. Lessons gleaned from Hunter's life and death, and Jim and Jill's struggle to save their marriage during tumultuous times, make this a compelling and inspiring read.

- Publisher
You May Also Be Interested In
About "Without a Word"
WITHOUT A WORD is a riveting memoir that blends remarkable achievement with passion, sacrifice, love, pain, and human interest. It takes the reader into the lives of a celebrity couple, Pro Football Hall of Famer Jim Kelly, and his wife, Jill, to reveal the Kelly family's private struggle and how seven years with their severely disabled, terminally ill son, Hunter, unfolded in a redemptive and transforming manner. The light of Hunter's love through his brief and silent life shone into the shadowed corners of Jill and Jim's lives resulting in Jill believing that Jesus Christ was authentic, her learning to forgive Jim of past indiscretions, and finally resulting in Jim's seeking and finding God. Lessons gleaned from Hunter's life and death, and Jim and Jill's struggle to save their marriage during tumultuous times, make this a compelling and inspiring read.
- Publisher


Meet the Author
Jill Kelly
Jill Kelly is the wife of former Buffalo Bills quarterback Jim Kelly. In September 1997, three months after their infant son, Hunter, was diagnosed with a fatal disease called Krabbe Leukodystrophy, Jim and Jill founded the Hunter's Hope Foundation. As chairman of the board of Hunter's Hope, Jill helps children suffering from Leukodystrophy and their families by raising awareness and research funds to fight this devastating disease. She and Jim live in Buffalo, NY, with their two daughters and three dogs. Hunter's Hope Foundation can be found online at http://www.huntershope.org . Half of all royalties will go to the Hunter's Hope Foundation. Jill is also the author of a full color gift book entitled, Prayers for Those Who Grieve.