Wof Fiction: Sweetwater Gap (Women Of Faith Fiction Series)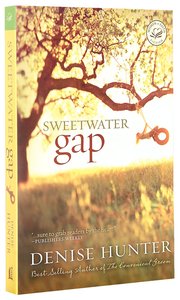 When Josephine's family insists she come home to help with the harvest, the timing works. But her return isn't simple benevolence - she plans to persuade the family to sell the failing orchard.

The new manager's presence is making it difficult. Grady MacKenzie takes an immediate disliking to Josephine and becomes outright cantankerous when she tries talking her family into selling. As she and Grady work side by side in the orchard, she begins to appreciate his devotion and quiet faith. She senses a vulnerability in him that makes her want to delve deeper, but there's no point letting her heart have its way - he's tied to the orchard, and she could never stay there.

A brush with death tears down Josephine's defenses and for the first time in her life, she feels freedom - freedom from the heavy burden of guilt, freedom to live her life the way it was intended, with a heart full of love.

- Publisher
You May Also Be Interested In
About "Wof Fiction: Sweetwater Gap (Women Of Faith Fiction Series)"
When Josephine's family insists she come home to help with the harvest, the timing works. But her return isn't simple benevolence - she plans to persuade the family to sell the failing orchard.

The new manager's presence is making it difficult. Grady MacKenzie takes an immediate disliking to Josephine and becomes outright cantankerous when she tries talking her family into selling. As she and Grady work side by side in the orchard, she begins to appreciate his devotion and quiet faith. She senses a vulnerability in him that makes her want to delve deeper, but there's no point letting her heart have its way - he's tied to the orchard, and she could never stay there.

A brush with death tears down Josephine's defenses and for the first time in her life, she feels freedom - freedom from the heavy burden of guilt, freedom to live her life the way it was intended, with a heart full of love.

- Publisher
- Koorong


A story of love and second chances. She wished she could go back and change things . . . but life doesn't give do-overs. Could anything but good-byes be waiting on the other side of Sweetwater Gap?
Josie Mitchell's sister Laurel thinks she's come home to pitch in with the apple harvest and save the family orchard. Her brother-in-law Nate thinks she's there to talk the overworked, very pregnant Laurel into finally selling the family business. The orchard's new manager Grady Mackenzie just thinks she's trouble with a capital T. They're all right . . . and all wrong. Because no one really knows what drove Josie from home in the first place. Why she's never come home before, even for her own father's funeral. Why she pushes herself so hard . . . and what she's running from. And nobody, not even Josie, is prepared for the surprising new fruit she'll find on her last trip home.
- Publisher
Meet the Author
Denise Hunter
Denise Hunter is the award-winning author of eight novels and three novellas including Surrender Bay: A Nantucket Love Story and The New Heights series. She and her husband helped start a new church two years ago that continues to reach the unchurched in their community. Denise serves on the worship team and leads Book Connection, a Christian fiction book club for women. She and her husband are raising three boys.
Customer Reviews For "Wof Fiction: Sweetwater Gap (Women Of Faith Fiction Series)"
Write Your Own Review
Guilt Free
By Rochelle, NSW,

Feb 15 2015
I so enjoyed turning each page of Denise Hunters "Sweetwater Gap".
The journey of a hearts desire for relief from guilt and a need for assurance and love.
Always love a story with Twins in it and this one had 2 sets!

Josie returns home to help her sister Laurel and Orchard Manager Grady. It's harvest time and the memories that have kept her running are still alive and haunting.

It's not long and feelings are stirring between Josie and Grady but trying to keep secrets hidden and her sister resting to give the babies the best chance at life are adding to Josie's exhaustion.
Grady is not sure what to think of Josie but on hearing that she wants to sell the orchard he's not getting too close and fighting down his growing feelings is just going to have to be done.
Then a secret shared changes things.... He can't help but keep an eye on Josie.

You'll just have to get a copy and find out what happens when a heart needing freedom and love is mended.
Loved it!
Will be reading more Denise Hunter!!
---
Essential Reading
By Book Review Sisters,

Jul 25 2011
Josie Mitchell ran away from the family apple orchard years ago, trying to escape past mistakes. On the strong request of her brother in law, she returns home to help save the apple harvest and to help her pregnant sister sell the family business.
Grady Mackenzie, the orchard's new manager takes an immediate dislike to Josie, figuring she's more trouble than help. Problem is no one, including Grady can figure out what's driving Josie and why she's always running. As Josie pushes herself to breaking point, she begins to face everything she ran from in the first place.
It didn't take me long to completely immerse myself in the apple orchard, the Mitchell family and the growing relationship between once-bitten-twice-shy Grady and perpetual runner Josie. 
As these two clash and click over and over and as events begin to spiral out of Josie's control, she finally faces up to the past and starts looking towards a future and it's one she never saw coming.

{{review.title}}
By {{review.author.name}},

{{review.reviewCreatedDate | date:'MMM dd yyyy'}}

{{reviewdescription}}
{{review.text}}
---
Other Titles In The "Women Of Faith Fiction" Series View All