Word and Faith (#02 in The Annotated Luther Series)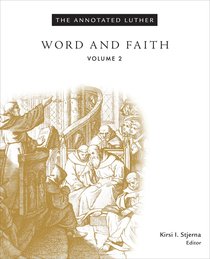 Volume 2 of The Annotated Luther series contains a number of the writings categorized under the theme word and faith. Luther was particularly focused on what the word "does" in order to create and sustain faith. Writings in the volume range from the large core documents Bondage of the Will, Against the Heavenly Prophets, The Smalcald Articles, and Large Catechism to Luther's own Confession of Faith and treatments of Moses, the Gospels, and Two Kinds of Righteousness. ln the treatises in this volume, we hear Luther's understanding of Scripture and theology as he continues his growth as teaching theologian, pastor, biblical exegete, and apologist for the faith. Each volume in The Annotated Luther series contains new introductions, as well as annotations, illustrations, and notes, to help shed light on Luther's context and interpret his writings for today. The translations of Luther's writings include updates of Luther's Works, American Edition or entirely new translations of Luther's German or Latin writings.

- Publisher
You May Also Be Interested In
About "Word and Faith (#02 in The Annotated Luther Series)"
Volume 2 of The Annotated Luther series contains a number of the writings categorized under the theme word and faith. Luther was particularly focused on what the word "does" in order to create and sustain faith. Writings in the volume range from the large core documents Bondage of the Will, Against the Heavenly Prophets, The Smalcald Articles, and Large Catechism to Luther's own Confession of Faith and treatments of Moses, the Gospels, and Two Kinds of Righteousness. ln the treatises in this volume, we hear Luther's understanding of Scripture and theology as he continues his growth as teaching theologian, pastor, biblical exegete, and apologist for the faith. Each volume in The Annotated Luther series contains new introductions, as well as annotations, illustrations, and notes, to help shed light on Luther's context and interpret his writings for today. The translations of Luther's writings include updates of Luther's Works, American Edition or entirely new translations of Luther's German or Latin writings.
- Publisher


Table Of Contents
Series Introduction: Introduction To Volume 2; 1. Sermon On Two Kinds Of Righteousness-else Marie Wiberg Pedersen; 2. What To Look For In The Gospels-wanda Deifelt; 3. Against The Heavenly Prophets In The Matter Of Images And Sacraments-hans J. Hillerbrand; 4. How Christians Should Regard Moses-brooks Schramm; 5. Bondage Of The Will-volker Leppin; 6. Confession Of Faith (from Confession Of The Articles Of Faith Against The Enemy Of The Gospel And All Kinds Of Heresies)-gordon Jensen; 7. The Large Catechism-kirsi I. Stjerna; 8. The Smalcald Articles-kurt. K. Hendel.
Other Titles In The "The Annotated Luther Series" Series View All