Words Spoken True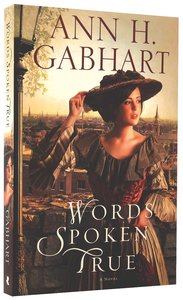 Adriane Darcy was practically raised in her father's newspaper offices. With ink in her veins, she can't imagine life without the clatter of the press and the push to be first to write the news that matters. Their Tribune is the leading paper in Louisville in 1855.

When Blake Garrett, a brash young editor from the North with a controversial new style of reporting, takes over a competing newspaper, the battle for readers gets fierce. After Adriane and Blake meet at a benefit, their surprising mutual attraction is hard to ignore. Still, Blake is the enemy, and Adriane is engaged to the son of a powerful businessman who holds the keys to the Tribune's future. Blake will stop at almost nothing to get the story--and the girl.

Set against the volatile backdrop of political and civil unrest in 1850s Louisville, this exciting story of love and loyalty will hold you in its grip until the very last page.





- Publisher During a period of political unrest in 1855 Louisville, Adriane stands ready to do everything she must to keep her father's newspaper on top even if it means going toe-to-toe with a handsome rival editor.

- Publisher
You May Also Be Interested In
About "Words Spoken True"
Adriane Darcy was practically raised in her father's newspaper offices. With ink in her veins, she can't imagine life without the clatter of the press and the push to be first to write the news that matters. Their Tribune is the leading paper in Louisville in 1855.

When Blake Garrett, a brash young editor from the North with a controversial new style of reporting, takes over a competing newspaper, the battle for readers gets fierce. After Adriane and Blake meet at a benefit, their surprising mutual attraction is hard to ignore. Still, Blake is the enemy, and Adriane is engaged to the son of a powerful businessman who holds the keys to the Tribune's future. Blake will stop at almost nothing to get the story--and the girl.

Set against the volatile backdrop of political and civil unrest in 1850s Louisville, this exciting story of love and loyalty will hold you in its grip until the very last page.




- Publisher

During a period of political unrest in 1855 Louisville, Adriane stands ready to do everything she must to keep her father's newspaper on top even if it means going toe-to-toe with a handsome rival editor.
- Publisher


Meet the Author
Ann H Gabhart
Ann H. Gabhart has published a number of adult and young adult novels with several publishers. The author of The Scent of Lilacs and Orchard of Hope, Ann lives with her husband a mile from where she was born in Lawrenceburg, Kentucky.