Words Unspoken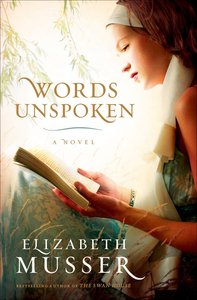 Memorable, emotional contemporary fiction as a young woman struggling to overcome the loss of her mother finds healing in an unexpected place.Lissa Randall's future was bright with academic promise until the tragic accident that took her mother's life--and brought her own plans to a screeching halt. Eighteen months later Lissa is still unable to get back behind the wheel.

Ev McAllistair's driving school looks like Lissa's best hope for getting her life back on the road again. His patience and fatherly wisdom seem to transcend the driving experience. But Ev's own complicated past is about to resurface, with consequences for everyone in his orbit....Elizabeth Musser is the author of six novels, including the bestselling The Swan House. A native of Atlanta, Georgia, she and her husband currently reside near Lyon, France.
You May Also Be Interested In
About "Words Unspoken"
Memorable, emotional contemporary fiction as a young woman struggling to overcome the loss of her mother finds healing in an unexpected place.Lissa Randall's future was bright with academic promise until the tragic accident that took her mother's life--and brought her own plans to a screeching halt. Eighteen months later Lissa is still unable to get back behind the wheel.

Ev McAllistair's driving school looks like Lissa's best hope for getting her life back on the road again. His patience and fatherly wisdom seem to transcend the driving experience. But Ev's own complicated past is about to resurface, with consequences for everyone in his orbit....Elizabeth Musser is the author of six novels, including the bestselling The Swan House. A native of Atlanta, Georgia, she and her husband currently reside near Lyon, France.
- Koorong

Lissa Randall's future was bright with academic promise until the tragic accident that took her mother's life--and brought her own plans to a screeching halt. Eighteen months later Lissa is still unable to get back behind the wheel.

Ev McAllistair's driving school looks like Lissa's best hope for getting her life back on the road again. His patience and fatherly wisdom seem to transcend the driving experience. But Ev's own complicated past is about to resurface, with consequences for everyone in his orbit....
- Publisher


Meet the Author
Elizabeth Musser
Elizabeth Goldsmith Musser, a native of Atlanta, Georgia, attended the Westminster Schools and then received her B.A. in English and French from Vanderbilt University, where she was a member of Phi Beta Kappa and graduated magna cum laude. ýThough passionate about writing since childhood, Elizabeth's first book was not published until 1996. Two Crosses was the first of a trilogy set during both the Algerian War for independence from France (1957-1962) and the present day civil war in Algeria. Her work has since been translated into Dutch, French, and German. ýSince 1989, Elizabeth and her