Working With Angels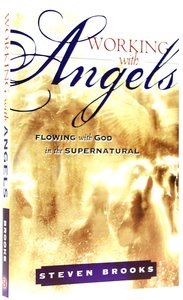 Throughout history and up to our modern day we discover saints who desire a deep and intimate walk with God. The Bible records Enoch as being a trend setter for those who long to explore the vast and limitless realm of brilliant glory found only in Jesus Christ. Steven maintains that angels are one of God's primary methods of assisting Christians to fulfill His purposes on earth.

- Publisher We must work with angels to fulfill God's plan on the earth. The ministry of angels is being restored in the Church. If you are praying for a higher level of spiritual experience, angels are waiting to welcome you to a realm that will bring you closer to your Lord. This book will lead you toward your goal with biblical truths and real-life, personal experiences. Discover the striking similarities between angels and horses, as well as the answers to these questions: Are you a war horse or a show horse? Have you lost the key to victory? How does God rank angels, demons, and humans? What is the "slipstream of Heaven"? Do you have a personal angel? Working hand in hand with God's angels, you can draw closer to Jesus and see Him build His Kingdom through you

- Publisher
You May Also Be Interested In
About "Working With Angels"
Throughout history and up to our modern day we discover saints who desire a deep and intimate walk with God. The Bible records Enoch as being a trend setter for those who long to explore the vast and limitless realm of brilliant glory found only in Jesus Christ. Steven maintains that angels are one of God's primary methods of assisting Christians to fulfill His purposes on earth.
- Publisher

We must work with angels to fulfill God's plan on the earth. The ministry of angels is being restored in the Church. If you are praying for a higher level of spiritual experience, angels are waiting to welcome you to a realm that will bring you closer to your Lord. This book will lead you toward your goal with biblical truths and real-life, personal experiences. Discover the striking similarities between angels and horses, as well as the answers to these questions: Are you a war horse or a show horse? Have you lost the key to victory? How does God rank angels, demons, and humans? What is the "slipstream of Heaven"? Do you have a personal angel? Working hand in hand with God's angels, you can draw closer to Jesus and see Him build His Kingdom through you
- Publisher


Meet the Author
Steven Brooks
Steven Brooks is known worldwide for his outstanding ability to preach and teach the Word of God with unusual authority and tremendous clarity. His powerful healing ministry has taken him throughout America and around the world with countless miracles as a result.