Worship as It is in Heaven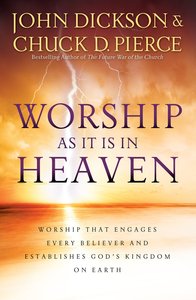 :According to the Psalms, God is enthroned on the praises of His people--and it is from that throne that He governs the heavens and the earth. If this picture of God's rule, found throughout the Scriptures, is accurate, shouldn't the Body of Christ seek to praise the King of heaven and earth in ways that release His kingdom government into specific circumstances? John A. Dickson and Chuck D. Pierce, coauthors of Worship As It Is in Heaven, offer the church a fresh look at heaven's pattern of worship, instituted in David's tabernacle and renewed through Jesus' apostles in the earliest days of the church. This "apostolic worship" is God's chosen way of establishing His will on earth; through worship, the forces of darkness are pushed back and righteousness prevails. In Worship As It Is in Heaven, readers are invited to enter in to a fullness of worship that the world has too rarely seen: worship that is the conduit of God's government of peace, justice, and holiness on the earth.

- Publisher
You May Also Be Interested In
About "Worship as It is in Heaven"
:According to the Psalms, God is enthroned on the praises of His people--and it is from that throne that He governs the heavens and the earth. If this picture of God's rule, found throughout the Scriptures, is accurate, shouldn't the Body of Christ seek to praise the King of heaven and earth in ways that release His kingdom government into specific circumstances? John A. Dickson and Chuck D. Pierce, coauthors of Worship As It Is in Heaven, offer the church a fresh look at heaven's pattern of worship, instituted in David's tabernacle and renewed through Jesus' apostles in the earliest days of the church. This "apostolic worship" is God's chosen way of establishing His will on earth; through worship, the forces of darkness are pushed back and righteousness prevails. In Worship As It Is in Heaven, readers are invited to enter in to a fullness of worship that the world has too rarely seen: worship that is the conduit of God's government of peace, justice, and holiness on the earth.
- Publisher


Meet the Authors
Chuck D Pierce
Chuck D. Pierce is president of Glory of Zion International Ministries and vice president of Global Harvest Ministries. He is the former director of the World Prayer Centre and co-author of the books The Worship Warrior and Restoring Your Shield of Faith. Chuck, his wife, Pam, and their three children live in Denton, Texas. - Publisher.