Worship as It is in Heaven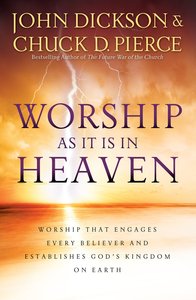 :According to the Psalms, God is enthroned on the praises of His people--and it is from that throne that He governs the heavens and the earth. If this picture of God's rule, found throughout the Scriptures, is accurate, shouldn't the Body of Christ seek to praise the King of heaven and earth in ways that release His kingdom government into specific circumstances? John A. Dickson and Chuck D. Pierce, coauthors of Worship As It Is in Heaven, offer the church a fresh look at heaven's pattern of worship, instituted in David's tabernacle and renewed through Jesus' apostles in the earliest days of the church. This "apostolic worship" is God's chosen way of establishing His will on earth; through worship, the forces of darkness are pushed back and righteousness prevails. In Worship As It Is in Heaven, readers are invited to enter in to a fullness of worship that the world has too rarely seen: worship that is the conduit of God's government of peace, justice, and holiness on the earth.

- Publisher
You May Also Be Interested In
About "Worship as It is in Heaven"
:According to the Psalms, God is enthroned on the praises of His people--and it is from that throne that He governs the heavens and the earth. If this picture of God's rule, found throughout the Scriptures, is accurate, shouldn't the Body of Christ seek to praise the King of heaven and earth in ways that release His kingdom government into specific circumstances? John A. Dickson and Chuck D. Pierce, coauthors of Worship As It Is in Heaven, offer the church a fresh look at heaven's pattern of worship, instituted in David's tabernacle and renewed through Jesus' apostles in the earliest days of the church. This "apostolic worship" is God's chosen way of establishing His will on earth; through worship, the forces of darkness are pushed back and righteousness prevails. In Worship As It Is in Heaven, readers are invited to enter in to a fullness of worship that the world has too rarely seen: worship that is the conduit of God's government of peace, justice, and holiness on the earth.
- Publisher


Meet the Authors
John Dickson
John Dickson (Ph.D., Macquarie University, Sydney) is one of Australia's best selling Christian authors. Much of his remarkable output focuses on the reliability of the New Testament and the relevance of the gospel to contemporary life. Recently, his documentary The Christ Files featured on Chanel 7.

His books range from academic studies to popular apologetics and youth issues and include Mission-Commitment in Ancient Judaism and in the Pauline Communities (JCB Mohr; WUNT 2/159); Hanging in There; A Sneaking Suspicion; Jesus: A Hell of a Life; Simply Christianity: Beyond Religion; Vital Signs and The Spectator's Guide to Jesus
This gifted communicator started his career as a singer/songwriter with rock band, In the Silence and hosted the national music TV show, Swordfish, for 2 years. Since then, he has gone on to gain an honours degree in Theology and a doctorate in ancient history. He holds the position of Honorary Associate in the Department of Ancient History, Macquarie University, Sydney. An ordained Anglican minister, John has spent the best part of a decade working as a local church minister.
Most recently he has produced Humilitas:A Lost Key to Life, Love, and Leadership (Zondervan, 2011); Life of JesusWho He Is and Why He Matters (Zondervan, 2010); The Best Kept Secret of Christian Mission: Promoting the Gospel with More Than Our Lips (Zondervan, 2010) ; Investigating Jesus: An Historian's Quest; Jesus: A Short Life; The Christ Files; and 666 and all That with Greg Clarke
Koorong - Editorial Review.
Chuck D Pierce
Chuck D. Pierce is president of Glory of Zion International Ministries and vice president of Global Harvest Ministries. He is the former director of the World Prayer Centre and co-author of the books The Worship Warrior and Restoring Your Shield of Faith. Chuck, his wife, Pam, and their three children live in Denton, Texas. - Publisher.