Worship: Beyond the Hymnbook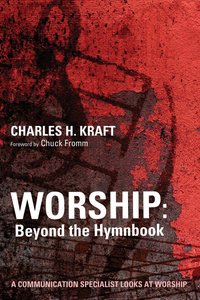 What is worship? Are the things we do in worship mere ritual, or do they have meaning? Why do we do these things, anyway? Worship is one of our most important acts, and it serves several purposes. In worship, we honor the God who has done so much for us. We communicate to him that we are on his side. We educate our children, leading them into a deeper relationship with Jesus. And we communicate to Satan that we're on God's side, for worship is both an act of solidarity and an act of war. But how best to communicate in worship? Traditional singing is often simply a transition to another part of the service, and for some worshippers, the songs' very familiarity can be deadening. Into this context of familiarity comes contemporary worship with guitars and drums--as well as the new life found in new appreciation for a contemporary understanding of God. New music spawns renewal of our excitement, our appreciation of our relationship with Jesus, and our involvement in his program. We can no longer sit, heads down, as we read old thoughts in old hymnals. He is alive, and so are we.

- Publisher
You May Also Be Interested In
About "Worship: Beyond the Hymnbook"
What is worship? Are the things we do in worship mere ritual, or do they have meaning? Why do we do these things, anyway? Worship is one of our most important acts, and it serves several purposes. In worship, we honor the God who has done so much for us. We communicate to him that we are on his side. We educate our children, leading them into a deeper relationship with Jesus. And we communicate to Satan that we're on God's side, for worship is both an act of solidarity and an act of war. But how best to communicate in worship? Traditional singing is often simply a transition to another part of the service, and for some worshippers, the songs' very familiarity can be deadening. Into this context of familiarity comes contemporary worship with guitars and drums--as well as the new life found in new appreciation for a contemporary understanding of God. New music spawns renewal of our excitement, our appreciation of our relationship with Jesus, and our involvement in his program. We can no longer sit, heads down, as we read old thoughts in old hymnals. He is alive, and so are we.
- Publisher


Meet the Author
Charles H Kraft
Charles H. Kraft (Ph.D., Hartford Seminary Foundation) is Sun-Hee Kwak Professor of Anthropology and Intercultural Communication in the School of Intercultural Studies at Fuller Seminary, Pasadena, California.

He is the author of Christianity in Culture; Deep Wounds, Deep Healing; Defeating Dark Angels; Anthropology for Christian Witness and Communication Theory for Christian Witness. He has served as a missionary in Northern Nigeria, a professor in African languages at Michigan State University and UCLA, and part-time professor of anthropology at Biola University.
Some of his recent popular books include Two Hours to Freedom: A Simple and Effective Model for Healing and Deliverance; Confronting Powerless ChristianityEvangelicals and the Missing Dimension and I Give You Authority: Practising the Authority Jesus Gave us
Koorong -Editorial Review.