Worship By the Book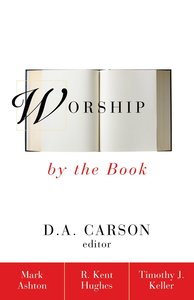 Worship is a hot topic, but the ways that Christians from different traditions view it vary greatly. What is worship? More important, what does it look like in action, both in our corporate gatherings and in our daily lives? WORSHIP BY THE BOOK cuts through the cultural cliches.
You May Also Be Interested In
About "Worship By the Book"
Worship is a hot topic, but the ways that Christians from different traditions view it vary greatly. What is worship? More important, what does it look like in action, both in our corporate gatherings and in our daily lives? WORSHIP BY THE BOOK cuts through the cultural cliches.
- Koorong

'What is at stake is authenticity. . . . Sooner or later Christians tire of public meetings that are profoundly inauthentic, regardless of how well (or poorly) arranged, directed, performed. We long to meet, corporately, with the living and majestic God and to offer him the praise that is his due.'---D. A. Carson Worship is a hot topic, but the ways that Christians from different traditions view it vary greatly. What is worship? More important, what does it look like in action, both in our corporate gatherings and in our daily lives? These concerns---the blending of principle and practice---are what Worship by the Book addresses. Cutting through cultural cliches, D. A. Carson, Mark Ashton, Kent Hughes, and Timothy Keller explore, respectively: - Worship Under the Word - Following in Cranmer's Footsteps - Free Church Worship: The Challenge of Freedom - Reformed Worship in the Global City 'This is not a comprehensive theology of worship,' writes Carson. 'Still less is it a sociological analysis of current trends or a minister's manual chockfull of 'how to' instructions.' Rather, this book offers pastors, other congregational leaders, and seminary students a thought-provoking biblical theology of worship, followed by a look at how three very different traditions of churchmanship might move from this theological base to a better understanding of corporate worship. Running the gamut from biblical theology to historical assessment all the way to sample service sheets, Worship by the Book shows how local churches in diverse traditions can foster corporate worship that is God-honoring, Word-revering, heartfelt, and historically and culturally informed.
- Publisher


Meet the Authors
D A Carson (Ed)
Dr Don (D. A.) Carson is currently Research Professor of New Testament at Trinity Evangelical Divinity School in Deerfield, Illinois. His areas of expertise include biblical theology, the historical Jesus, postmodernism, pluralism, Greek grammar, Johannine theology, Pauline theology, and questions of suffering and evil. Carson has written prolifically and profoundly on all these subjects.

Carson has written or edited 57 books - as well as numerous journal articles - ranging from New Testament commentaries to topical studies on the state of the contemporary church and its wider cultural context. His work is characterised by brilliant theological insight, thorough scholarship, and an uncompromising commitment to the essentials of Reformed doctrine.

Carson's landmark book, The Gagging of God: Christianity Confronts Pluralism won the 1997 Evangelical Christian Publishers Association Gold Medallion Award. Other works that examine the interaction of church and culture include The Inclusive Language Debate (1998), Becoming Conversant With the Emerging Church (2005), Christ and Culture Revisited (2008) and The Intolerance of Tolerance (2012).

Carson's exegetical works include volumes on individual New Testament books in the Revised Expositor's Bible Commentary, Pillar New Testament Commentary, Baker Exegetical Commentary, and New International Greek Testament Commentary. In Exegetical Fallacies (1984, 1996, 2nd ed.), Carson is at his incisive best, analysing the root causes of errors in biblical interpretation. He has also notably edited the New Testament Commentary Survey up to its 7th edition (2013), as well as the Zondervan Study Bible (2015).

Donald Arthur Carson was born in Montreal, Canada, in 1946. His undergraduate degree majored in mathematics and chemistry. He went on to undertake a Master of Divinity with a Baptist seminary and earned his PhD in New Testament from Cambridge University in 1975, the same year he married his wife Joy. In 1978, Carson joined the faculty of Trinity Evangelical Divinity School, where he has worked ever since. In 2005 with Tim Keller, Carson founded The Gospel Coalition (TGC) - a network of Reformed churches dedicated to engaging and transforming the wider culture through speaking events, online advocacy, and publication. He continues to be an active guest lecturer in church and academic settings around the world.

Carson lives with his family in Liberty, Illinois. In his spare time he enjoys reading, hiking, and woodworking.
Mark Ashton
Mark Ashton was Rector of St Andrew the Great in Cambridge. In 2008 he was diagnosed with cancer and died in 2010. In On My Way To Heaven he wrote movingly and with great insight about dealing with his own death and the hope he had in Jesus.
R Kent Hughes
Kent Hughes was in pastoral ministry for 41 years, the last 27 as senior pastor of College Church in Wheaton. He earned his BA from Whittier College (history), an MDiv from Talbot Seminary and a DMin from Trinity Evangelical Divinity School. He and his wife, Barbara, have four children and 21 grandchildren. He retired from his pulpit ministry at College Church and was given the title Senior Pastor Emeritus in December 2006. He continues to be involved in training pastors biblical exposition and preaching.
Timothy J Keller
Timothy Keller is the founding pastor of Redeemer Presbyterian Church in Manhattan, which he started in 1989 with his wife, Kathy. For over twenty-five years he has led a diverse congregation of young professionals that has grown to a weekly attendance of over 5,000.

He is also Chairman of Redeemer City to City, which starts new churches in New York and other global cities, and publishes books and resources for faith in an urban culture. In ten years they helped to launch over 250 churches in 48 cities. More recently, Dr. Keller's books - including the New York Times bestselling The Reason for God, The Prodigal God, and Prayer: Experiencing Awe and Intimacy with God - have sold over 1 million copies and been translated into 15 languages.

Tim was born in 1950, raised in Pennsylvania, and educated at Bucknell University, Gordon-Conwell Theological Seminary, and Westminster Theological Seminary. He previously served as the pastor of West Hopewell Presbyterian Church in Hopewell, Virginia, Associate Professor of Practical Theology at Westminster Theological Seminary, and Director of Mercy Ministries for the Presbyterian Church in America.

Tim and his wife Kathy have three adult sons.
Table Of Contents
Preface . . 7

Acknowledgments . . . 9

1. Worship Under The Word . 11

D. A. Carson

2. Following In Cranmer's Footsteps . . . . 64

Mark Ashton With C. J. Davis

Appendix: Putting The Principles Into Practice

(3 Sample Services) . . . . 109

3. Free Church Worship: The Challenge Of Freedom . . . . 136

R. Kent Hughes

Appendix A: College Church Worship

(5 Sample Services) . . . . 173

Appendix B: Wonders Of Worship . 189

Appendix C: Reading The Word . . . 190

Appendix D: When Music Equals Worship . . . 192

4. Reformed Worship In The Global City 193

Timothy J. Keller

Appendix A: Sample Worship Services . . 240

Appendix B: Prayers For Those Not Taking The Lord's Supper . . . 249

Indexes 251
Customer Reviews For "Worship By the Book"
Write Your Own Review
Helpful discussion about worship
By Matthew,

Sep 12 2015
Worship by the Book presents 4 authors offering their perspective and tradition of "worship". Carson opens the book with an essay presenting a theology and definition of worship. Next, Ashton presents from an Anglican perspective, Hughes presents from a Baptist viewpoint, and finally Keller offers his Presbyterian perspective.

Dr. Carson's essay is the strength of the book. Unfortunately, I found some of the excellence of the presentation was overshadowed by the 'dryness' of the reading.  His definition of "worship" is also of mixed value. Positively, it is very comprehensive and detailed, negatively it is so comprehensive to be unmemorable. It is not a simple or succinct definition. 
 
The essays by the authors on their respective traditions are helpful, especially if the reader is not familiar with other Christian traditions. However, it was often difficult to perceive how the writer was using "worship". It was often unclear whether they were using "worship" as 'all of life' worship or 'corporate gathering' worship.

Overall, a helpful summary of the various authors views of worship and an insightful explanation of their traditions and backgrounds.
The value all placed on the importance of Christ-centred worship was excellent and the absolute necessity to ensure God's Word is the filter and foundation for all corporate worship was helpful.
---
An important contribution to the worship debate
By David McKay,

Apr 05 2007
One of the best things about this book is Don Carson's introductory article. He is familiar with the wide variety of views about worship and interacts thoughtfully with them. Although he agrees with David Peterson and his followers that worship in the New Testament has a whole-of-life persepctive, he nevertheless argues there is a still a place for thinking of Christian gatherings as "corporate worship." And he points out that Peterson's "Engaging with God" also leaves a place for this.

The authors of the various chapters come from diverse backgrounds, from liturgical to extemporary. It is interesting that the liturgical author points out that Cranmer left the door open for some freedom in church services, and the minister from the less rigid worship culture was arguing for a place for liturgy!

I highly recommend this book.

{{review.title}}
By {{review.author.name}},

{{review.reviewCreatedDate | date:'MMM dd yyyy'}}

{{reviewdescription}}
{{review.text}}
---