Wrath and Glory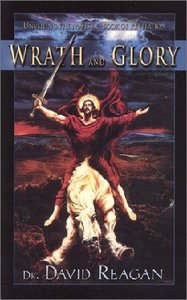 -- Plainly explains the various end times positions -- Pre-Trib, Mid-Trib, Post-Trib, Preterist, Historicist.-- Examines the most frequently asked questions about Revelation.-- Presents a fascinating look at the fate of the United States in Bible prophecy.-- Clearly explains the relevance of the Revelation message to all people.There are commentaries on the Book of Revelation, but none like this one, designed for the layman. In his down-to-earth, readable style, prophecy teacher David Reagan strips away the mystery and intellectual jargon from this book that has so puzzled Christians for generations.Giving a sensible overview of the book, then giving brief summaries of the different schools of thought, Reagan lets the book speak for itself, emphasizing the spiritual riches waiting for the discerning reader. In fitting with Reagan's style, Wrath and Glory is meant as much for mainline denominations as for evangelicals.

- Publisher 240 Pages

- Publisher In this book David Reagan allows Scripture to speak for itself. By exploring the many differing views of this mysterious book, he encourages the reader to examine Revelation for its plain-sense meaning.

- Publisher
You May Also Be Interested In
About "Wrath and Glory"
-- Plainly explains the various end times positions -- Pre-Trib, Mid-Trib, Post-Trib, Preterist, Historicist.-- Examines the most frequently asked questions about Revelation.-- Presents a fascinating look at the fate of the United States in Bible prophecy.-- Clearly explains the relevance of the Revelation message to all people.There are commentaries on the Book of Revelation, but none like this one, designed for the layman. In his down-to-earth, readable style, prophecy teacher David Reagan strips away the mystery and intellectual jargon from this book that has so puzzled Christians for generations.Giving a sensible overview of the book, then giving brief summaries of the different schools of thought, Reagan lets the book speak for itself, emphasizing the spiritual riches waiting for the discerning reader. In fitting with Reagan's style, Wrath and Glory is meant as much for mainline denominations as for evangelicals.
- Publisher

240 Pages
- Publisher

In this book David Reagan allows Scripture to speak for itself. By exploring the many differing views of this mysterious book, he encourages the reader to examine Revelation for its plain-sense meaning.
- Publisher


Meet the Author
David Reagan
Reagan is the evangelist for Lamb & Lion Ministries, a Bible prophecy ministry located in the Dallas, Texas area.