Wrestling With Tom Sawyer (#04 in Enchanted Attic Series)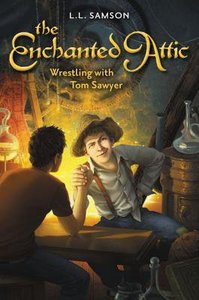 There's no one under the sun like Tom Sawyer! School is back in session, and all of Kingscross is abuzz with news of a burglar specializing in fine antiques and rare books. Seven Hills Rare Books has battened down the hatches. Meanwhile, preparations are underway for the monthly party, 'Bare Feet and a Straw Hat Never Hurt Anybody.' For the 'evening with Mark Twain,' Ophelia has set to reading Tom Sawyer, and the gang agrees that the mischievous boy should be brought into Real World. He'd be a refreshing change, much easier to handle, and they could easily pass him off as a student. However, Tom immediately picks a fight with Walter, falls in love with Ophelia, and tries to one-up Linus's scientific discoveries with tales of treasure hunting and cave exploring. When Ophelia is kidnapped by the thief, Tom is determined to save her like he did Becky Thatcher. The question is, will it be too late? Praise for the series: 'A fantasy steeped in classic literature...narrator Bartholomew Inkster brings Lemony Snicket--like irony to frame the story....References to literature throughout the narrative make this a feast for middle-grade book lovers. Kids who like quirky adventure stories with idiosyncratic characters will enjoy a simpler kind of fun.' -- Publishers Weekly Praise for Saving Moby Dick ...Generously infused with animating elements of mystery, romance and comedy---plus a particularly lively and diverse supporting cast of grown-ups. -Kirkus

- Publisher
You May Also Be Interested In
About "Wrestling With Tom Sawyer (#04 in Enchanted Attic Series)"
There's no one under the sun like Tom Sawyer! School is back in session, and all of Kingscross is abuzz with news of a burglar specializing in fine antiques and rare books. Seven Hills Rare Books has battened down the hatches. Meanwhile, preparations are underway for the monthly party, 'Bare Feet and a Straw Hat Never Hurt Anybody.' For the 'evening with Mark Twain,' Ophelia has set to reading Tom Sawyer, and the gang agrees that the mischievous boy should be brought into Real World. He'd be a refreshing change, much easier to handle, and they could easily pass him off as a student. However, Tom immediately picks a fight with Walter, falls in love with Ophelia, and tries to one-up Linus's scientific discoveries with tales of treasure hunting and cave exploring. When Ophelia is kidnapped by the thief, Tom is determined to save her like he did Becky Thatcher. The question is, will it be too late? Praise for the series: 'A fantasy steeped in classic literature...narrator Bartholomew Inkster brings Lemony Snicket--like irony to frame the story....References to literature throughout the narrative make this a feast for middle-grade book lovers. Kids who like quirky adventure stories with idiosyncratic characters will enjoy a simpler kind of fun.' -- Publishers Weekly Praise for Saving Moby Dick ...Generously infused with animating elements of mystery, romance and comedy---plus a particularly lively and diverse supporting cast of grown-ups. -Kirkus
- Publisher


Meet the Author
Lisa Samson
Lisa Samson is the author of over twenty-five books, including the Christy award-winning novel Songbird. Her novel, Quaker Summer was Christianity Today's novel of 2008. She is coauthor with her husband, Will, of Justice in the Burbs.
Other Titles In The "Enchanted Attic Series" Series View All
$11.99




Order now to secure your copy when our stock arrives. 0 Available. Expected to ship November 2018.

Formats

$11.99




Order now to secure your copy when our stock arrives. 0 Available. Expected to ship in 6 to 7 weeks from Australia.

Formats