Yeshua (Ancient Mysteries Retold Series)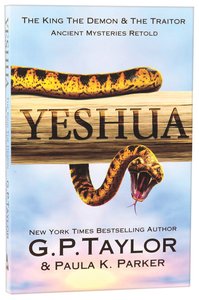 Yeshua - The King, The Demon & The Traitor takes readers back to witness the life of one man whose birth changed the course of history forever.

With vivid descriptions and historic details, these stories clothe the characters with flesh and bone, laughter and tears, love and pain, excitement and anger. The scenes and settings paint the ancient world with the grit and dust of Palestine alongside the opulence and decadence of the Roman Empire. Throughout it all, these stories honour the truth of the ancient book from which the narratives were drawn.

Yeshua will captivate the imagination of a generation that is perhaps more familiar with Hogwarts and Mt Olympus than Galilee and Jerusalem with these retellings of stories from the world's all-time bestselling book.

- Publisher
You May Also Be Interested In
About "Yeshua (Ancient Mysteries Retold Series)"
Yeshua - The King, The Demon & The Traitor takes readers back to witness the life of one man whose birth changed the course of history forever.

With vivid descriptions and historic details, these stories clothe the characters with flesh and bone, laughter and tears, love and pain, excitement and anger. The scenes and settings paint the ancient world with the grit and dust of Palestine alongside the opulence and decadence of the Roman Empire. Throughout it all, these stories honour the truth of the ancient book from which the narratives were drawn.

Yeshua will captivate the imagination of a generation that is perhaps more familiar with Hogwarts and Mt Olympus than Galilee and Jerusalem with these retellings of stories from the world's all-time bestselling book.

- Publisher
- Koorong

Imaginative retelling of 29 New Testament Bible stories for children aged 9-11.
From the depths of time come stories that have been told and retold for thousands of years. twenty-nine exciting stories come together to speak of the life of Jesus and his followers.
Told in a fresh and exciting way, this book will open your eyes to the pioneers of the new religion called 'The Way' and the force that subsequently changed the history of mankind.
- Publisher
Meet the Authors
G P Taylor
G. P. Taylor(www.shadowmancer.com) is the author of Tersias the Oracle, as well as New York Times bestsellers Shadowmancer and Wormwood. He has recently co-authored Rosie: note to self with Claire Connor.
Paula Parker
Paula K. Parker is a nationally recognized playwright, author, and freelance writer. She is highly respected in the Christian entertainment industry and is frequently called upon to write about it. She has contributed more than 1000 articles, personality profiles, and CD, book, and theatrical reviews to such national publications as Christian Single Magazine, Profile Magazine, ParentLife Magazine, and Clarity Magazine.When she is not writing, Paula whiles away the hours with her writer/actor husband Mike, visiting with their five grown children, playing in their gardens, restoring their vintage home, cooking, baking (especially anything chocolatey) and playing the harp.
Other Titles In The "Ancient Mysteries Retold Series" Series