You Are a Prize to Be Won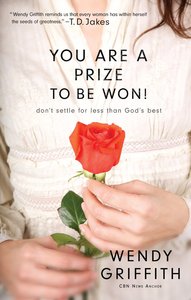 In You Are a Prize to Be Won! CBN news anchor Wendy Griffith shares her personal story of falling in love, and then watching her happily-ever-after dreams disappear. In the aftermath of heartbreak, Wendy discovered the truth about who she is in God's eyes ... and she invites you to make the same discovery about yourself--not just in your head--but deep down in your heart.

In her warm, storytelling style, Wendy shares the heartbreaking experiences that have helped her define real love. You will learn--as she did--to guard your heart, avoid counterfeits, and enjoy being sensationally single until the right one comes along. God's love for you is extravagant and you shouldn't settle for emotional crumbs. You Are a Prize to Be Won! is for every woman who has ever doubted her incalculable value.

- Publisher
You May Also Be Interested In
About "You Are a Prize to Be Won"
In You Are a Prize to Be Won! CBN news anchor Wendy Griffith shares her personal story of falling in love, and then watching her happily-ever-after dreams disappear. In the aftermath of heartbreak, Wendy discovered the truth about who she is in God's eyes ... and she invites you to make the same discovery about yourself--not just in your head--but deep down in your heart.

In her warm, storytelling style, Wendy shares the heartbreaking experiences that have helped her define real love. You will learn--as she did--to guard your heart, avoid counterfeits, and enjoy being sensationally single until the right one comes along. God's love for you is extravagant and you shouldn't settle for emotional crumbs. You Are a Prize to Be Won! is for every woman who has ever doubted her incalculable value.
- Publisher


Meet the Author
Wendy Griffith
Wendy Griffith | Virginia Beach, VA Wendy is a senior reporter and anchor for CBN news, co-anchors CBN Newswatch (a national daily 30-minute newscast), Christian World News (an international weekly newscast on TBN) and is a primary anchor on the CBN's flagship show, The 700 Club . She has been on the front lines of national and international breaking stories, including Hurricane Katrina, wars in the Middle East and the controversy over the Ground Zero Mosque in New York.