You Can Break That Habit and Be Free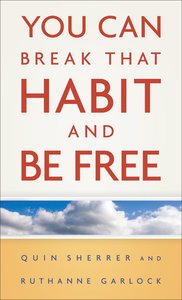 Everyone has a habit that they hate but just can't seem to beat. Gossip. Complaining. Holding a grudge. Overindulging. This book gives readers both the tools and the confidence to change--for good.

- Publisher
You May Also Be Interested In
About "You Can Break That Habit and Be Free"
Everyone has a habit that they hate but just can't seem to beat. Gossip. Complaining. Holding a grudge. Overindulging. This book gives readers both the tools and the confidence to change--for good.
- Publisher


Meet the Authors
Quin Sherrer
Quin Sherrer has published 27 books, these include the best-selling How to Pray for Your Children, A Woman's Guide to Spiritual Warfare and most recently Lord, Help Me Break This Habit , she has written for many leading Christian magazines, and received numerous awards. Shes also been a guest on over 300 radio and television shows and is a speaker at weekend retreats for churches, womens groups, and military congregations.
-Editorial Review.
Ruthanne Garlock
Ruthanne Garlock is an author and international Bible teacher living near San Antonio, Texas. Together, she and Quin Sherrer have coauthored 20 books, including their best-sellers, How to Pray for Your Children and A Woman's Guide to Spiritual Warfare. Since her husband's death in 2003, Ruthanne is the only grandparent left for their four grandchildren.
-Publisher.