You Can Pray in Tongues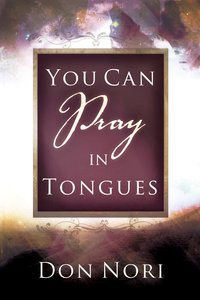 You Can Pray In Tongues is about as practical and easy as it gets. Written for the seeker, not for the intellectual, you will find this book will move this phenomenon into the realm of the reachable. Yes, praying in tongues is for everyone. God has so designed it. Everyone means you too. The book carefully reviews scripture and outlines step by step how to make praying in the spirit, a normal part of your Christian life. Additionally, it contains a brief history of praying in tongues through the ages as well as the remarkable experiences of children and young people. The grace of the Lord is abundantly lavished upon the seeker as he discovers the wonders and the miracle of praying in tongues.

- Publisher
You May Also Be Interested In
About "You Can Pray in Tongues"
You Can Pray In Tongues is about as practical and easy as it gets. Written for the seeker, not for the intellectual, you will find this book will move this phenomenon into the realm of the reachable. Yes, praying in tongues is for everyone. God has so designed it. Everyone means you too. The book carefully reviews scripture and outlines step by step how to make praying in the spirit, a normal part of your Christian life. Additionally, it contains a brief history of praying in tongues through the ages as well as the remarkable experiences of children and young people. The grace of the Lord is abundantly lavished upon the seeker as he discovers the wonders and the miracle of praying in tongues.
- Publisher


Meet the Author
Don Nori
Don Nori Sr, along with his wife Cathy, founded Destiny Image Publishers January 1, 1983. During the past 27 years, they have rejoiced, cried and grown together as God fulfilled His calling in their lives.They are a genuine testimony of how God can take truly raw material and use it for His glory. Without any experience in publishing and absolutely money, the Lord has shown them what faith, holy risk-taking and abandonment to Him can accomplish."I will cause you to publish the prophets" was the phrase the resounded through their spirits as God built within them the zeal for His prophetic word. Nestled in the foothills of the Appalatian mountains in south-central Pennsylvania, Don and Cathy build Destiny Image into a world-wide prophetic publishing voice. Four of their five sons work at DI. Don Jr is the President and chief marketing officer. Jonathan is the VP for Operations and IT. Both work at the home office. Nathan Martin is the VP for financial operations along with 40 other employees and countless writers, editors, artists, sales people and authors.