You Don't Have to Be Perfect to Follow Jesus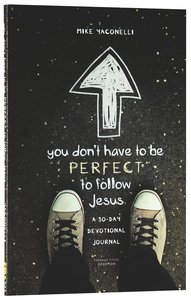 Discipleship means being like the Big Twelve disciples, right? But when you read the Gospels and Acts, it's clear the disciples weren't always on top of things. In fact, the disciples were clueless, selfish, erratic, inconsistent, and faithless at least half the time. But Jesus loved them and used them all the more for it. Author Mike Yaconelli scrubs away centuries of sentimental buildup and shows there's hope for us too. In this updated thirty-day devotional, you'll experience thirty character traits that are marks of a disciple, from boldness to weakness to preparedness. Each reading includes an event from Scripture, a description of that day's trait, first-person commentary, the obvious and not-so-obvious truth lesson, and questions and journaling space that invite you to ponder and write about your experience. Common Core Standards: CCSS.ELA-Literacy.RL.9-10.1 and 11-12.1 Cite strong and thorough textual evidence to support analysis of what the text says explicitly as well as inferences drawn from the text, including determining where the text leaves matters uncertain. CCSS.ELA-Literacy.RL.9-10.2 and 11-12.2 Determine two or more themes or central ideas of a text and analyze their development over the course of the text, including how they interact and build on one another to produce a complex account; provide an objective summary of the text.

- Publisher
You May Also Be Interested In
About "You Don't Have to Be Perfect to Follow Jesus"
Discipleship means being like the Big Twelve disciples, right? But when you read the Gospels and Acts, it's clear the disciples weren't always on top of things. In fact, the disciples were clueless, selfish, erratic, inconsistent, and faithless at least half the time. But Jesus loved them and used them all the more for it. Author Mike Yaconelli scrubs away centuries of sentimental buildup and shows there's hope for us too. In this updated thirty-day devotional, you'll experience thirty character traits that are marks of a disciple, from boldness to weakness to preparedness. Each reading includes an event from Scripture, a description of that day's trait, first-person commentary, the obvious and not-so-obvious truth lesson, and questions and journaling space that invite you to ponder and write about your experience. Common Core Standards: CCSS.ELA-Literacy.RL.9-10.1 and 11-12.1 Cite strong and thorough textual evidence to support analysis of what the text says explicitly as well as inferences drawn from the text, including determining where the text leaves matters uncertain. CCSS.ELA-Literacy.RL.9-10.2 and 11-12.2 Determine two or more themes or central ideas of a text and analyze their development over the course of the text, including how they interact and build on one another to produce a complex account; provide an objective summary of the text.
- Publisher


Meet the Author
Mike Yaconelli
Mike Yaconelli was the founder of Youth Specialties. He spent 43 years of his life in ministry to youth, and 20 years as a pastor of a small church in Yreka, California (in recent years, Mike called it "the slowest growing church in America"). Mike and his wife, Karla, split their time between Yreka and San Diego. Mike speaks on the Heart of Youth Ministry training video, wrote The Disciple Experiment: A Faith-In-Action Student Journal and dozens of other youth ministry books. Mike was also the author of Dangerous Wonder: The Adventure of Childlike Faith, and Messy Spirituality: God's Annoying Love for Imperfect People, which are both available in book stores or online from Youth Specialties.
Before Mike passed away in October of 2003, he wrote two more books for Youth Specialties: The CORE Realities of Youth Ministry and Devotion. His fingerprints are all over Youth Specialties and this websiteyou can't miss his presence here!