You Don't Know Me (#06 in Deep Haven Series)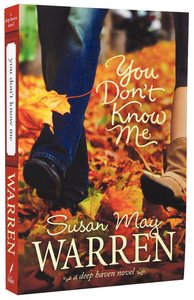 To everyone who knows her, Annalise Decker is a model wife and mother. She?s a permanent member of the PTA, never misses her kids? sporting events, and is constantly campaigning for her husband?s mayoral race.

No one knows that Annalise was once Deidre O?Reilly, a troubled young woman whose testimony put a dangerous criminal behind bars. Relocated through the Witness Security Program to the sleepy town of Deep Haven, Deidre got a new identity and a fresh start, which began when she fell in love with local real estate agent Nathan Decker. Twenty years later, Annalise couldn?t be more unprepared for her past to catch up with her. When Agent Frank Harrison arrives with news that the man she testified against is out on bail and out for revenge, Annalise is forced to face the consequences of her secrets. Will she run again, or will she finally find the grace to trust those she loves most with both her past and her future?

- Publisher
You May Also Be Interested In
About "You Don't Know Me (#06 in Deep Haven Series)"
To everyone who knows her, Annalise Decker is a model wife and mother. She?s a permanent member of the PTA, never misses her kids? sporting events, and is constantly campaigning for her husband?s mayoral race.

No one knows that Annalise was once Deidre O?Reilly, a troubled young woman whose testimony put a dangerous criminal behind bars. Relocated through the Witness Security Program to the sleepy town of Deep Haven, Deidre got a new identity and a fresh start, which began when she fell in love with local real estate agent Nathan Decker. Twenty years later, Annalise couldn?t be more unprepared for her past to catch up with her. When Agent Frank Harrison arrives with news that the man she testified against is out on bail and out for revenge, Annalise is forced to face the consequences of her secrets. Will she run again, or will she finally find the grace to trust those she loves most with both her past and her future?
- Publisher


Meet the Author
Susan May Warren
Susan Warren recently returned home after serving eight years with her husband and four children as missionaries in Khaborovsk in Far East Russia. Susan holds a BA in mass communications from the University of Minnesota and is a multipublished author of novellas and novels. Susan has an amazing gift for writing complex plots and weaving powerful Christian content throughout her stories. She and her family live in Northern Minnesota.
Customer Reviews For "You Don't Know Me (#06 in Deep Haven Series)"
Write Your Own Review
Another Excellent Deep Haven Story
By Iola,

Nov 15 2012
Everyone in Deep Haven thinks that Annalise and Nathan Decker have a perfect life with their three children, Jason, Colleen and Henry. Nathan's a successful real estate agent who's running for mayor, she's a soccer mom to three children who volunteers at Goodwill and bakes perfect cookies. But everything is not what it seems. Nathan's business is in the red, he's spent Jason's college fund on his mayoral campaign and Annalise has just had a visitor from the past--Frank, who was responsible for rescuing drug addict Deidre O'Reilly twenty years ago, as part of a witness security programme, and relocating her to Deep Haven.

And Annalise hasn't told her husband that Jason has auditioned for the lead in the school play instead of getting a job like Nathan wanted, that Colleen is dating a bad boy and Henry wants to quit soccer. And she hasn't told him that Uncle Frank isn't really her uncle, but is here to warn her that Garcia is out of prison and wants to make good on his threat to murder her for putting him inside for the last twenty years.

The Deep Haven stories have gradually changed from new love and romance with an element of suspense to romantic suspense featuring married couples with children and teenagers. Yes, there is still a Happy-Ever-After, but the focus has changed (and I'm still waiting for Lisa from the first book to get her HEA). While part of me really enjoyed the young love stories, it's good to see an author whose stories and characters are staying true to the readership and growing with us. It makes the stories relevant in a different way, as we see characters struggling in their lives and marriages, yet finding a way to forgive and stay true to their marriage vows. 

As with the previous Deep Haven novels, You Don't Know Me is well written, with engaging characters facing problems we can relate to (well, keeping secrets and things not always being what they seem, if not the part about being an ex-drug addict in a witness security programme), and a clear but understated Christian element. The book was inspired by a real-life situation, which makes it all the more poignant. An enjoyable read.

Thanks to Tyndale House and NetGalley for providing a free ebook for review. 
---
I Couldn't Put This One Down!
By Melissa,

Oct 21 2012
What and awesome book!  I stayed up into the early hours of the morning with this one.  It was well written and had an interesting plot. This was my first book by this author which I started reading by chance.  I will be definitely seeking out her other books.  

The spiritual insights the main character Annelise came to know and believe really touched my heart.  I cried a few tears during this book and loved they way it finished.
{{review.title}}
By {{review.author.name}},

{{review.reviewCreatedDate | date:'MMM dd yyyy'}}

{{reviewdescription}}
{{review.text}}
---
Other Titles In The "Deep Haven Series" Series View All