You Found Me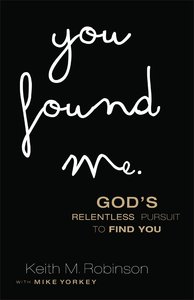 :By the time Keith was 17 years old, his rap sheet included DUI, possession of narcotics, and intent to distribute (that's drug dealing). He was emaciated from drug use, dirty and rumpled, and under house arrest awaiting trial. That's when a stranger paid him a visit, sitting down in his filthy room to touch his gaunt shoulder and pray.

Maybe you are facing circumstances even worse than Keith's. Maybe you've made choices that have hurt you and the people around you. Maybe your family has failed or damaged you, leaving scars you're sure will never heal. Or maybe you just can't bring yourself to care anymore, because you've forgotten how to dream big. How ever lost you are, you have not been abandoned--a relentless God is pursuing you.

You Found Me is Keith's story of a tragic life redeemed, but it's more than that: It's the story of anyone willing to be found.

- Publisher
You May Also Be Interested In
About "You Found Me"
:By the time Keith was 17 years old, his rap sheet included DUI, possession of narcotics, and intent to distribute (that's drug dealing). He was emaciated from drug use, dirty and rumpled, and under house arrest awaiting trial. That's when a stranger paid him a visit, sitting down in his filthy room to touch his gaunt shoulder and pray.

Maybe you are facing circumstances even worse than Keith's. Maybe you've made choices that have hurt you and the people around you. Maybe your family has failed or damaged you, leaving scars you're sure will never heal. Or maybe you just can't bring yourself to care anymore, because you've forgotten how to dream big. How ever lost you are, you have not been abandoned--a relentless God is pursuing you.

You Found Me is Keith's story of a tragic life redeemed, but it's more than that: It's the story of anyone willing to be found.
- Publisher


Meet the Authors
Keith Robinson
Keith Robinson has a Bachelor of Arts and a Master Degree. Keith is from Kenosha, Wisconsin.
Mike Yorkey
Mike Yorkey, with thirty books to his credit, is a long-suffering San Diego Padres fan living in Encinitas, California. He most well known as the editor and author of Every Man Series