Your Best Destiny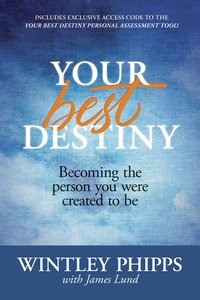 When you imagine what it would take for your life to be truly great-for you to become your best, most fulfilled self-do you dream of something more than what you have now? More money ... more attention ... more significance? What you may be missing is the one thing that actually gives your life ultimate value, meaning, and purpose.

Your Best Destiny helps you find it through a highly insightful personal assessment tool that will reveal eight keys God has placed deep within you to unlock your true character and help you become who you were born to be.

In this rich and encouraging book, Wintley Phipps-pastor, recording artist, and founder of the U.S. Dream Academy, the organization Oprah Winfrey honored with the Oprah Winfrey Angel Network "Use Your Life" Award-shares what he has learned (sometimes the hard way) about what it takes to become "the best me I can be." Join him as he leads you on a path to change your focus from what you have and do to who you are. Start today on the path to a truly great life, and step into your God-given destiny. (Includes an access code to the Your Best Destiny Personal Assessment Tool to reveal your personal strengths and areas for growth.)

- Publisher
You May Also Be Interested In
About "Your Best Destiny"
When you imagine what it would take for your life to be truly great-for you to become your best, most fulfilled self-do you dream of something more than what you have now? More money ... more attention ... more significance? What you may be missing is the one thing that actually gives your life ultimate value, meaning, and purpose.

Your Best Destiny helps you find it through a highly insightful personal assessment tool that will reveal eight keys God has placed deep within you to unlock your true character and help you become who you were born to be.

In this rich and encouraging book, Wintley Phipps-pastor, recording artist, and founder of the U.S. Dream Academy, the organization Oprah Winfrey honored with the Oprah Winfrey Angel Network "Use Your Life" Award-shares what he has learned (sometimes the hard way) about what it takes to become "the best me I can be." Join him as he leads you on a path to change your focus from what you have and do to who you are. Start today on the path to a truly great life, and step into your God-given destiny. (Includes an access code to the Your Best Destiny Personal Assessment Tool to reveal your personal strengths and areas for growth.)
- Publisher


Meet the Authors
James Lund
James Lund is a freelance writer and editor who has worked with numerous bestselling authors. He is a former writer/editor for Multnomah Publishers, newspaper reporter and editor, and college publications official. He enjoys hiking and river rafting with his wife, Angela, and their three children in Central Oregon.