Your Marriage Masterpiece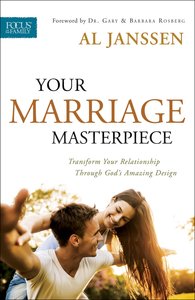 :A Transformational Picture of Marriage

God created marriage as a beautiful work of art that reflects his glory to the world. But our culture has undervalued and misunderstood it, causing it to lose some of its luster. Like recent restoration projects on the Sistine Chapel and the Mona Lisa, it is time to return marriage to its former glory, and the only way to do that is to take a closer look at what the artist had in mind all along.

In this newly revised and expanded book, Al Janssen takes a fresh look at the exquisite design God has for marriage and brings to light the reasons this union was intended to last a lifetime. The chapters weave real-life stories with great teaching and biblical narratives in order to paint a complete picture of all that marriage can be. Readers will examine elements such as passion, adventure, and commitment that come together to make up the colors of God's design. They will also discover new ways to reflect God's love within marriage--revealing his plan for men and women from the moment he created us.

- Publisher
You May Also Be Interested In
About "Your Marriage Masterpiece"
:A Transformational Picture of Marriage

God created marriage as a beautiful work of art that reflects his glory to the world. But our culture has undervalued and misunderstood it, causing it to lose some of its luster. Like recent restoration projects on the Sistine Chapel and the Mona Lisa, it is time to return marriage to its former glory, and the only way to do that is to take a closer look at what the artist had in mind all along.

In this newly revised and expanded book, Al Janssen takes a fresh look at the exquisite design God has for marriage and brings to light the reasons this union was intended to last a lifetime. The chapters weave real-life stories with great teaching and biblical narratives in order to paint a complete picture of all that marriage can be. Readers will examine elements such as passion, adventure, and commitment that come together to make up the colors of God's design. They will also discover new ways to reflect God's love within marriage--revealing his plan for men and women from the moment he created us.
- Publisher


Meet the Author
Al Janssen
Brother Andrew began taking Bibles to Christians behind closed borders in 1955. That work has since developed into Open Doors International. He is the author and coauthor of numerous books, including God's Smuggler. Brother Andrew makes his home in the Netherlands. Al Janssen has co-written or authored more than twenty-five books, including Light Force. He is chairman of the board for Open Doors (USA) with Brother Andrew and is director of communications for Open Doors International. Janssen lives in Colorado Springs, Colorado.