You're Already Amazing: Embracing Who You Are, Becoming All God Created You to Be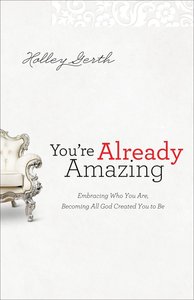 Psst.... pull up a chair and I'll tell you a secret. You'd better lean in close for this one.
Ready?

You don't have to do more, be more, have more.

I'm sure there are security alarms going off somewhere. You should probably hide this book when your in-laws come over.

But it's true.

It's the kind of true that will change your life, set you free, and make you wake up smiling for the first time in a long time. I know because that's what it did for me....

So watch out, sister. If you keep reading you just might be next.

With this heart-to-heart message, Holley Gerth invites you to embrace one very important truth--that you truly are already amazing. Like a trusted friend, Holley gently shows you how to forget the lies and expectations the world feeds you and instead believe that God loves you and has bigger plans for your life than you've even imagined.

"I so appreciated Holley Gerth's heart as I read You're Already Amazing--a work full of encouragement, joy, and extremely helpful prompts that helped me overcome obstacles in my own heart. This book is a perfect addition to the library of any woman who wants to see genuine life change and experience it with joy alongside."
- Mary DeMuth, author of Beautiful Battle

- Publisher
You May Also Be Interested In
About "You're Already Amazing: Embracing Who You Are, Becoming All God Created You to Be"
Psst.... pull up a chair and I'll tell you a secret. You'd better lean in close for this one.
Ready?

You don't have to do more, be more, have more.

I'm sure there are security alarms going off somewhere. You should probably hide this book when your in-laws come over.

But it's true.

It's the kind of true that will change your life, set you free, and make you wake up smiling for the first time in a long time. I know because that's what it did for me....

So watch out, sister. If you keep reading you just might be next.

With this heart-to-heart message, Holley Gerth invites you to embrace one very important truth--that you truly are already amazing. Like a trusted friend, Holley gently shows you how to forget the lies and expectations the world feeds you and instead believe that God loves you and has bigger plans for your life than you've even imagined.

"I so appreciated Holley Gerth's heart as I read You're Already Amazing--a work full of encouragement, joy, and extremely helpful prompts that helped me overcome obstacles in my own heart. This book is a perfect addition to the library of any woman who wants to see genuine life change and experience it with joy alongside."
- Mary DeMuth, author of Beautiful Battle

- Publisher
- Koorong

Women feel enormous pressure to be perfect. To have the perfect body, to be a perfect woman, to have the perfect career, and to have the perfect attitude. All the time. Under all that pressure and all those expectations are women carrying burdens they were never meant to carry and suppressing the dreams they were always meant to live.

In You're Already Amazing, popular blogger and cofounder of (in)courage helps women understand and embrace the fact that they don't need to do more, be more, and have more--because they're already amazing just the way God created them to be. As a licensed counselor and certified life coach, Holley knows what readers need to hear. Like a heart-to-heart talk over coffee, reading this joy-filled book encourages women to forget the lies and expectations the world feeds them, instead believing that God made them for a purpose and that he loves them right now, at this moment, and always. Holley takes readers on a journey of the heart to discover their strengths and embrace all God created them to be.
- Publisher


Meet the Author
Holley Gerth
Holley Gerth is an award-winning author, speaker, counselor, and cofounder of (in)courage- an online home for the hearts of women that received over a million page views in its first year. Holley encourages thousands of readers through her highly popular blog Heart to Heart with Holley, more than 2000 greeting cards written for DaySpring, and in her popular first devotional Rain on Me. She invites women to meet her at www.HolleyGerth.com.