You're Loved No Matter What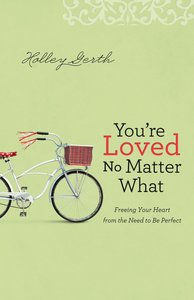 How would your life be different if you truly believed you're loved just as you are?" Holley Gerth poses this compelling question at the start of her latest book. As someone who has connected with thousands of women, Holley has seen the dangers of becoming trapped by impossible standards of beauty, achievement, and even spirituality. We believe if only we were perfect we could beat our depression, banish anxiety, and develop the relationships we long for most. Holley shares how God wants to set the hearts of women free by revealing the lies we believe and the scandalous grace and acceptance offered to us instead. When we know we're truly loved, the response is to love in return--and that changes everything.

Bestselling author and every woman's best friend, Holley Gerth helps women lay down their unrealistic expectations so they can embrace who God created them to be, pursue his purpose for their lives, and offer the love they've been freely given.

- Publisher
You May Also Be Interested In
About "You're Loved No Matter What"
How would your life be different if you truly believed you're loved just as you are?" Holley Gerth poses this compelling question at the start of her latest book. As someone who has connected with thousands of women, Holley has seen the dangers of becoming trapped by impossible standards of beauty, achievement, and even spirituality. We believe if only we were perfect we could beat our depression, banish anxiety, and develop the relationships we long for most. Holley shares how God wants to set the hearts of women free by revealing the lies we believe and the scandalous grace and acceptance offered to us instead. When we know we're truly loved, the response is to love in return--and that changes everything.

Bestselling author and every woman's best friend, Holley Gerth helps women lay down their unrealistic expectations so they can embrace who God created them to be, pursue his purpose for their lives, and offer the love they've been freely given.
- Publisher


Meet the Author
Holley Gerth
Holley Gerth is an award-winning author, speaker, counselor, and cofounder of (in)courage- an online home for the hearts of women that received over a million page views in its first year. Holley encourages thousands of readers through her highly popular blog Heart to Heart with Holley, more than 2000 greeting cards written for DaySpring, and in her popular first devotional Rain on Me. She invites women to meet her at www.HolleyGerth.com.