You're the One That I Want (#07 in Christiansen Family Series)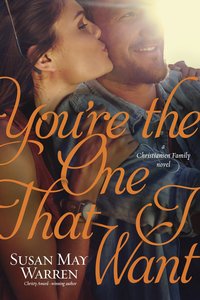 Owen Christiansen has been in a downward spiral since an injury ended his NHL career. But a job on an Alaskan crabbing boat offers a fresh start ... maybe even a shot at romance with Elise ?Scotty? McFlynn, the captain's daughter.

Used to being one of the guys, to never relying on anyone, Scotty doesn?t believe in happily ever after?especially with someone like Owen. Her instinct is confirmed when Casper Christiansen arrives to drag his prodigal brother home, bringing with him a truckload of family drama?and even worse, the news that Casper is wanted for questioning in connection to a crime back in Minnesota.

But Owen is more than the sum of his mistakes, a truth both he and Scotty discover when she escorts both brothers to Deep Haven as part of her new job on the Anchorage police force. Thrust into an unfamiliar world of family, faith, and fresh starts, Scotty begins to see potential for a happy ending ... if she's brave enough to embrace it.

- Publisher
You May Also Be Interested In
About "You're the One That I Want (#07 in Christiansen Family Series)"
Owen Christiansen has been in a downward spiral since an injury ended his NHL career. But a job on an Alaskan crabbing boat offers a fresh start ... maybe even a shot at romance with Elise ?Scotty? McFlynn, the captain's daughter.

Used to being one of the guys, to never relying on anyone, Scotty doesn?t believe in happily ever after?especially with someone like Owen. Her instinct is confirmed when Casper Christiansen arrives to drag his prodigal brother home, bringing with him a truckload of family drama?and even worse, the news that Casper is wanted for questioning in connection to a crime back in Minnesota.

But Owen is more than the sum of his mistakes, a truth both he and Scotty discover when she escorts both brothers to Deep Haven as part of her new job on the Anchorage police force. Thrust into an unfamiliar world of family, faith, and fresh starts, Scotty begins to see potential for a happy ending ... if she's brave enough to embrace it.
- Publisher


Meet the Author
Susan May Warren
Susan Warren recently returned home after serving eight years with her husband and four children as missionaries in Khaborovsk in Far East Russia. Susan holds a BA in mass communications from the University of Minnesota and is a multipublished author of novellas and novels. Susan has an amazing gift for writing complex plots and weaving powerful Christian content throughout her stories. She and her family live in Northern Minnesota.
Customer Reviews For "You're the One That I Want (#07 in Christiansen Family Series)"
Write Your Own Review
Wholesome
By Johanna,

Dec 06 2017
This whole series has been a journey. Although each book focuses on the journey of one of the Christiansen children, it still captures the life of the other children. Wholesome is the word I'd use to put it all together. Reading this last book is so fulfilling. Susan May Warren took me on a journey of love - God's love and unconditional love. Life and family are more than just existing - they're there for each other. Owen is still very loved by his family. Scotty believes in him, and is not troubled by his past. All Owen has to do is forgive himself and not be afraid of the future. Trust God. 
---
Beautiful Romance Novel
By Victoria,

Nov 25 2017
A beautiful story with clever twists and a compelling romance. Highly recommend this entire series. 
---
Final in the Series
By Rochelle, NSW,

Aug 02 2016
You're the One That I Want is the sixth novel in the romantic drama of the Christiansen Family. Susan May Warren has not disappointed in her telling of Owen's story. A troubled young Hockey star who finds his hockey days over after injury to his eye.
His brother Casper has been searching for him for months and one night while sitting in a bar finds his brother to be Lost at Sea!
Surviving his ocean experience with Elise 'Scotty' McFlynn, Owen is reunited with his brother Casper when he awakens in hospital.
Elise, also a detective, is the chosen escort back to Deep Haven when Casper is detained and wanted for questioning in the murder of his fiance's ex boyfriend.
The relationships are tested and found to be strong. 
Can Scotty accept this 'love' that she doesn't understand but her heart longs for? Can Owen overcome his regrets and move into a brighter future?
You'll enjoy this last book as much as the first, and those inbetween!
---
Fantastic series conclusion
By Rel Mollet, Relz Reviewz,

Jul 07 2016
Susan May Warren has saved the best to last! You're the One That I Want is the sixth and final novel in her family dramaromance Christiansen Family novels and I loved it from beginning to end. In my review of When I Fall in Love, I mentioned that I felt that some of the minor characters' actions in that story were a little 'soap opera' for me but I was trusting Susie to finish their stories well - she has done that admirably, with authenticity and spot on emotion. There is risk for a writer creating a redemptive story for the black sheep of a family like the Christiansens, that it might be trite or overly sentimental, but Susie has penned an engaging tale as Owen comes face to face with the consequences of his self-centred, careless, and destructive choices - consequences that impact not just his own happiness and future dreams, but those of his family, and others that he has hurt. Scotty, Owen, and Casper are the main players, but all the Christiansens feature making for a poignant and satisfying ending to this series. I'm excited to hear what stories Susie will be writing next!
---
Nice ending to the Series
By Hannah,

Jun 20 2016
I really like the way this author can manage to write a book that is both the final book of a series and still make it strong enough to be a standalone book if one hasn't read the rest. That said, it was so great to catch up with all the Christiansen family in this book and finish off their stories. None of the life issues any of the family have faced have been easy but instead of glossing over them or providing pat answers, the characters struggle through them in a way that's far from fictional. Lots to learn about life, forgiveness, God, love and family. Highly recommend this entire series. 

{{review.title}}
By {{review.author.name}},

{{review.reviewCreatedDate | date:'MMM dd yyyy'}}

{{reviewdescription}}
{{review.text}}
---
Other Titles In The "Christiansen Family" Series View All