Youth Walk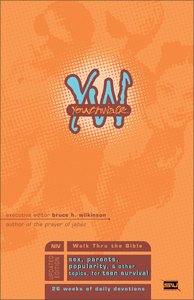 A compilation of 26 weeks of devotions from YouthWalk, a teen devotional magazine.
You May Also Be Interested In
About "Youth Walk"
A compilation of 26 weeks of devotions from YouthWalk, a teen devotional magazine.
- Koorong

I feel like I'm all alone in the world. My parents are diving me crazy. I just can't control my temper. Nobody likes me.The Bible has answers to these problems and more. And this newly revised edition of YouthWalk will help you dig them out in just a few minutes each day.YouthWalk tackles 26 different topics-things like temptation, depression, peer pressure, loneliness, and drugs. An Introductory Page previews the week's topic. And a Devotional Page-one for each weekday-surveys five different aspects of the topic. Each devotional page includes:· Opening Story-to start you thinking about the topic· Look It Up-to show you what God's Word says about it· Think It Through-to help you understand what God's Word means to you· Work It Out-to encourage you to put the Bible to work as you deal with the issue· Nail It Down-to help you build God's answers into your lifeTake a leisurely walk through the Bible a few minutes at a time and find answers to your most pressing problems.YouthWalk is a compilation of daily Bible studies from YouthWalk, a monthly student devotional magazine published by Walk Thru the Bible.
- Publisher


Meet the Author
Bruce Wilkinson (Ed)
Dr. Bruce Wilkinson is the author of The Prayer of Jabez, named the "fastest-selling book of all time" by Publishers Weekly. Other books written by Wilkinson include the bestsellers A Life God Rewards, Secrets of the Vine, and The Dream Giver, and Beyond Jabez. His books have sold over 20 million copies combined. In 1976, Wilkinson founded Walk Thru the Bible Ministries. It is now the largest Christian seminar organisation in the U.S., conducting more than 2,500 conferences per year. In 2001, his career took a decisive new direction with the founding of Global Vision Resources, a private non-profit operating foundation that produces, markets, and distributes video and curriculum products to retail outlets, businesses, schools, and ministries around the world. A heavily-in-demand speaker, Wilkinson also serves as Chairman of Dream for Africa and Ovation Productions. Bruce and his wife, Darlene Marie, have three children and six grandchildren. They divide their time between Georgia and South Africa.