Zechariah 9-14 and Malachi (Old Testament Library Series)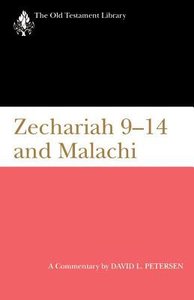 This critically acclaimed series provides fresh and authoritative treatments of important aspects of Old Testament study through commentaries and general surveys. The authors are scholars of international standing.

- Publisher 320 Pages

- Publisher In this commentary, David Peterson takes on the task of examining these prophetic pieces of literature of the Second Temple period as he explicates Zechariah 9-14, and Malachi. Treating these chapters as three separate collections, Petersen gives an extensive overview of these books. This commentary will be invaluable for anyone who wishes to learn more about these final chapters of the Old Testament that address how Israel's God related to the world of the Persian Empire and present God's responses to the community of faith.

- Publisher
You May Also Be Interested In
About "Zechariah 9-14 and Malachi (Old Testament Library Series)"
This critically acclaimed series provides fresh and authoritative treatments of important aspects of Old Testament study through commentaries and general surveys. The authors are scholars of international standing.
- Publisher

320 Pages
- Publisher

In this commentary, David Peterson takes on the task of examining these prophetic pieces of literature of the Second Temple period as he explicates Zechariah 9-14, and Malachi. Treating these chapters as three separate collections, Petersen gives an extensive overview of these books. This commentary will be invaluable for anyone who wishes to learn more about these final chapters of the Old Testament that address how Israel's God related to the world of the Persian Empire and present God's responses to the community of faith.
- Publisher


Meet the Author
David L Petersen
David L. Petersen (Ph.D., Yale University) is Professor of Old Testament at Candler School of Theology, Emory University, Atlanta, GA. Professor Petersen is a distinguished Old Testament scholar whose current research focuses on the book of Genesis and on prophetic literature.
An ordained Presbyterian minister, Dr. Petersen has written, coauthored or coedited numerous books and articles. He was the Senior Old Testament editor for The New Interpreter's Bible and New Interpreter's One-Volume commentary
Petersen recently served as president of the Society of Biblical Literature. His significant books include Haggai and Zechariah 1-8 (Old Testament Library, 1984); Zechariah 9-14 and Malachi (Old Testament Library, 1995) and A Theological Introduction to the Old Testament (2005) .
Other Titles In The "Old Testament Library" Series View All