Zondervan Essential Atlas of the Bible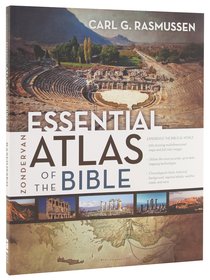 The Zondervan Essential Atlas of the Bible is a concise, handy sized atlas for Bible students, travelers to the Holy Land, and any Christian or reader of the Bible curious to find out more about commonly mentioned places in the Old and New Testaments. It is also an excellent supplemental textbook for use in classes focused on the Bible, the Old Testament, the New Testament, the lives and ministries of Jesus and Paul, and historical geography. The Zondervan Essential Atlas of the Bible features: Nearly 200 stunning multidimensional and three-dimensional maps and full-color images; Accurate and up-to-date mapping technologies; and Innovative chronological charts and maps covering historical backgrounds, regions, weather, and roads. If you're looking for a Bible atlas that is compact, easy to understand, and does not require a Bible degree to use, the Zondervan Essential Atlas of the Bible will make a wonderful addition to your library.

- Publisher
You May Also Be Interested In
About "Zondervan Essential Atlas of the Bible"
The Zondervan Essential Atlas of the Bible is a concise, handy sized atlas for Bible students, travelers to the Holy Land, and any Christian or reader of the Bible curious to find out more about commonly mentioned places in the Old and New Testaments. It is also an excellent supplemental textbook for use in classes focused on the Bible, the Old Testament, the New Testament, the lives and ministries of Jesus and Paul, and historical geography. The Zondervan Essential Atlas of the Bible features: Nearly 200 stunning multidimensional and three-dimensional maps and full-color images; Accurate and up-to-date mapping technologies; and Innovative chronological charts and maps covering historical backgrounds, regions, weather, and roads. If you're looking for a Bible atlas that is compact, easy to understand, and does not require a Bible degree to use, the Zondervan Essential Atlas of the Bible will make a wonderful addition to your library.
- Publisher


Meet the Author
Carl G Rasmussen
Carl Rasmussen (Ph.D., Dropsie University) is a professor of Old Testament at Bethel University in St. Paul, Minnesota, and an adjunct professor at the Institute of Holy Land Studies in Jerusalem.. He created the 1989 version of the Zondervan NIV Atlas of the Bible, which sold over 70,000 copies, won the Gold Medal Medallion Book Award from the ECPA. It was also translated into German, marking it as an international success.